Just a quickie before I head to work. I woke up at the crack ass of dawn this morning to apply for a business license for reasons too pathetic to even mention. I went home and sank into my dreams for a couple of hours and that was my fulfilling day.
I bought
this
double-breasted bad boy once the page loaded and my eyes met the screen. What impulse shopping? Haha and then I found out that my friend is already making sweet epidermis love to it as he purchased his weeks earlier. I realized that online shopping at 1AM induces incredible irritation to my mood mostly because I'm fighting my eyelids closing on me and some websites wait to mention shipping locations after you've bagged hundreds of dollars worth of mass market goodness.
Anyway, I had a couple of hours to kill the other day and went gallivanting through random stores until I found myself walking into a craft store. It never appeared to me the creative freedom one has once enveloped in such a DIY atmosphere. I left with a bag of the most adorable miniature teddy bears, a ceramic starfish and seaman's anchor, miniature hangers, and a bag of pins. My little trip to the craft store resulted in the creation of three of my new favorite brooches.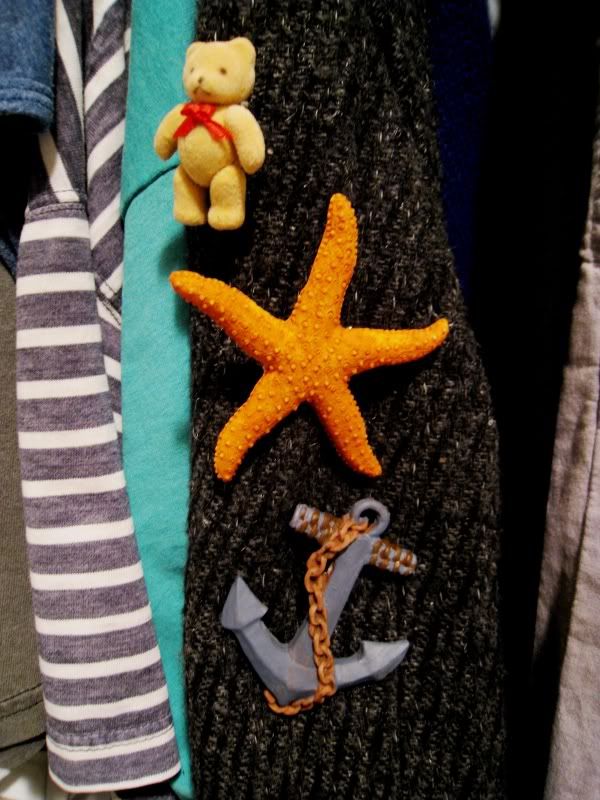 Too bad the ceramic pieces are inconveniently heavy thus weighing down lightweight t-shirts. I better skedaddle out of here before traffic gets all kinds of crazy. Oh, and a huge Congrats to Rumi over at
fashiontoast
for her most recent endeavors! Your legions of worshipers (including myself) are proud of you!