I had myself a little shopping extravaganza yesterday while playing hooky from work. I'm such a horrible shopper because I just wander into places without any expectations for my potential purchases. I don't even have an idea of where I want to shop; I seriously just drive around and park wherever an impulse strikes me. It's pretty tragic but provides for an incredibly random adventure that almost always results in major hauls.
I actually started off at a fabric store where I found an assortment of the most beautiful yet very delicate metallic chiffon's. I couldn't think quickly enough of what the fabric could be used for to suede a purchase, so constant groping and minute-long glares had to suffice. I did though leave with a couple yards of a plain black cotton-blend which I took minutes later to a seamstress to have sewn into drop-crotch pants. Immediacy? Cravings? I steer my own ship.
I then found myself wandering into a formal-wear store where if I'm correct, inaugurated my obsession with bow-ties. I was helped by a really sweet saleslady who busted out some gems in vivid hues and couldn't later resist buying. I also snagged two suspenders in plain black and dark navy. Before I checked out, something completely subtle yet vigorously bitchy happened in a short convo I had with the saleslady while trying on the last of my ties. Here's how it went:
What I
thought
she said:
Those are so stylish.
(referring to the tie)
My response:
I know, right?


What she
really
said:
You're so stylish!


Hahahahahaha! She probably thought I had my nose jammed so far up a dark crevice with that type of response. I don't think she caught it though because we continued in regular conversation until I checked out. So two suspenders and four bow-ties in my shopping bag--not bad, eh?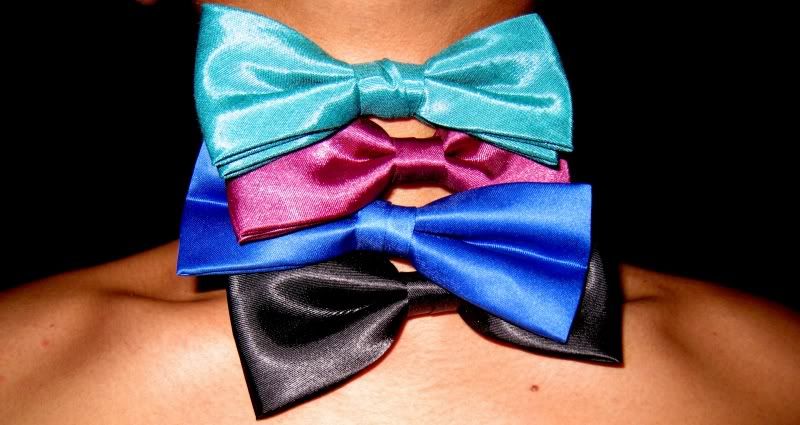 To conclude my purchases, I ended up at Bench where I picked up a couple of short-sleeved button-ups along with a striped cardigan that was surprisingly on sale. And since a reliable photographer is not at my beckoning these days, I snapped a couple of quick shots in the dressing room.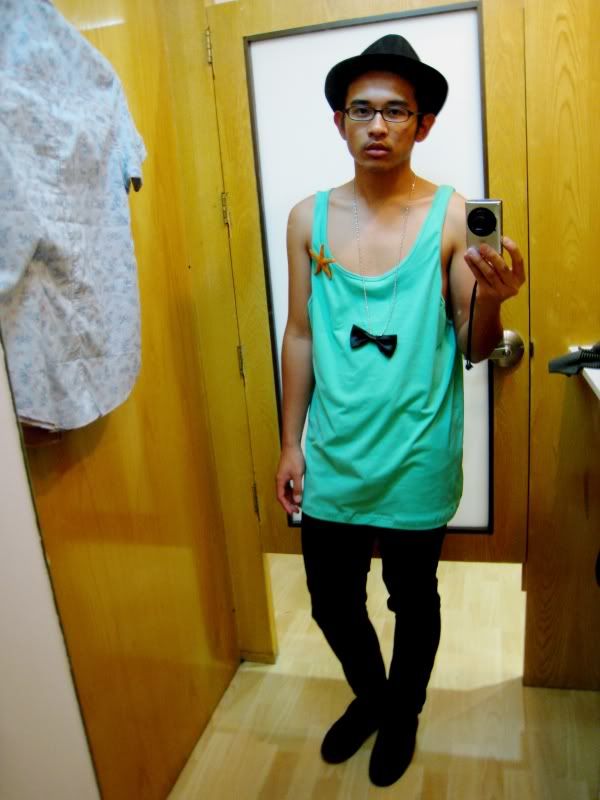 (Kohl's wool fedora, American Apparel mint big tank, self-made starfish pendant, self-made bow-tie necklace, Ross cigarette pants, K-Mart canvas shoes)
Did anyone else hear/read about Elbaz doing a line for Target this Fall?
toodles<3