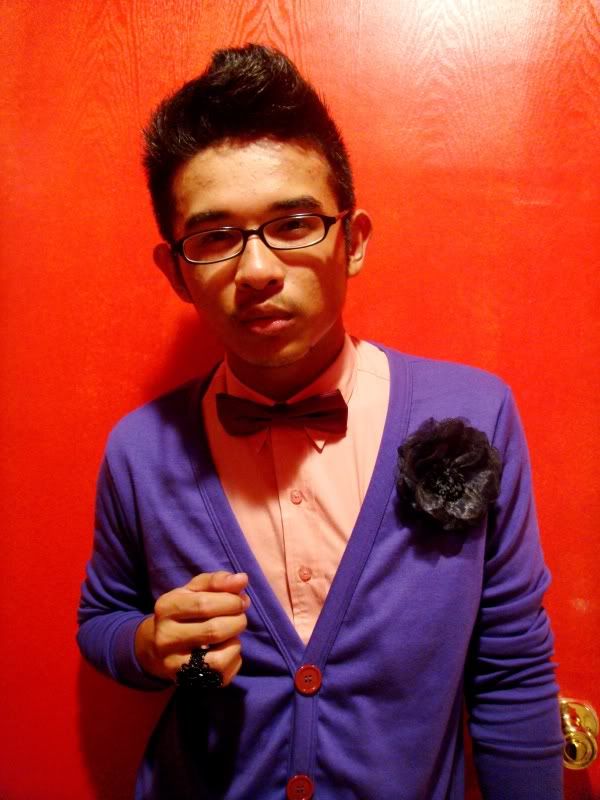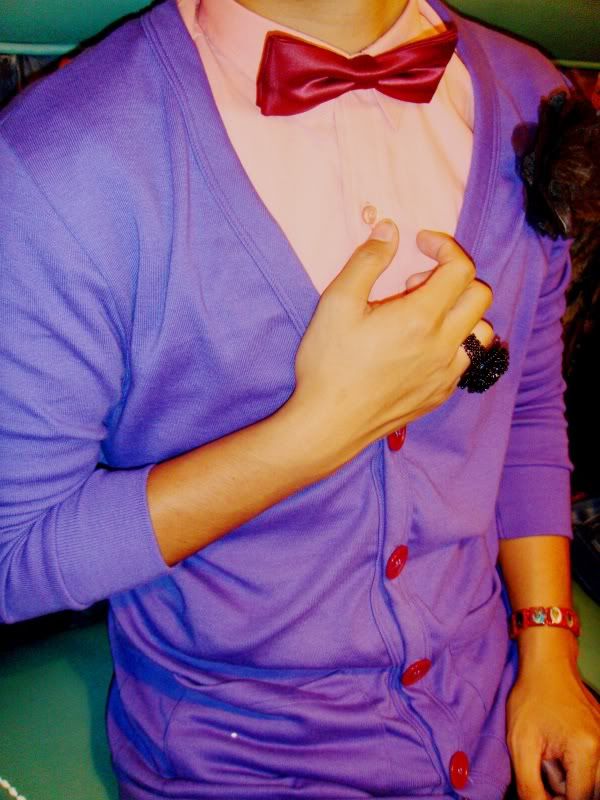 (Royal Bics bow-tie, Bench shirt, American Apparel oversized-pocket cardigan, F21 chiffon flower brooch, Boutiki beaded ring)
I thought it was funny that I wore this to a tacky beach-themed club party. I will vomit if I ever wear beach shorts on any surface other than sand.
My parents and brother left a couple of days ago (my mom & brother to TX, and my dad back to Afghanistan), and I'm feeling unusually disconnected from the world. I called in sick to work this morning for no apparent reason. I probably didn't want to deal with the life I built in independence before I got a jolt of much needed family time. I don't know if that exactly made sense but whatevs.
I really need to document all the crap I 'gathered' from the internet last month. My mom also brought me back some really essential basics for my wardrobe that I don't think I've mentioned before, all the more reason to abuse my Canon. Aside from that, during my little break from posting, I was spending a lot of time with my family because sometimes I get sucked into this theory where I'm living an individual life, disregarding the fact that I have loving and caring relatives all around me. It's sad because I subconsciously know that I feed this unhealthy theory when I cut time short with relatives just to be alone. WTF is that? I'm sorry that I have to share my mental instabilities with you all. Please bear with me while I sort through all my thoughts.
I've read several articles concerning the Alaia VS. The Met Gala/Anna Wintour/Harold Koda case, and I'm glad mainstream films--
cough, The Devil Wears Prada--
emphasize just how powerful ONE opinion can have over an entire billion-dollar industry. I'm no fashion historian, so please help me understand why Momma Wintour and AA can't hold hands and sing harmoniously around a warm camp-fire?
Enough of that; I must retire under my covers to assure that I am fully functioning tomorrow.
Oh, and Happy Mother's Day to all you baby makers!
<3