I finally found the stills of Lindsay Lohan in Balenciaga on the set of Ugly Betty. Well I think I'm more excited to see them more than anyone else mainly because it's nice to see a designer's work appreciated beyond the norm of the exclusive fashion circle.
She wears a Balenciaga SS08 top and a Hervé Léger by Max Azria FW 08 dress. The shoes look annoyingly familiar, but I can't identify them. Princess points for whoever does.
Fierce, no?
I'm glad Ugly Betty's costume designer Eduardo Castro used the top for the episode's outdoor scenes, because this is what it looks like on the runway in an enclosed area: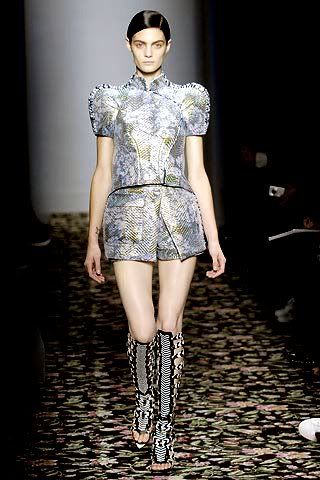 The vividity of the top's color under the sun is much more appealing than the washed-out runway look. I think it's so important to showcase statement pieces to their highest degrees, especially when you're wearing Balenciaga. Anyway, I hope this post was as impressionable for you as it was enjoyable for me to compose.
*Post-edit: I always forget to give a photo credit!
Lindsay photos from heaayah.
Balenciaga runway from http://www.style.com/
=]
**POST post-edit: Thanks to my darling Reggie in Guam who identified Lohan's shoes as Pierre Hardy FW 08. THANKSS REGG!