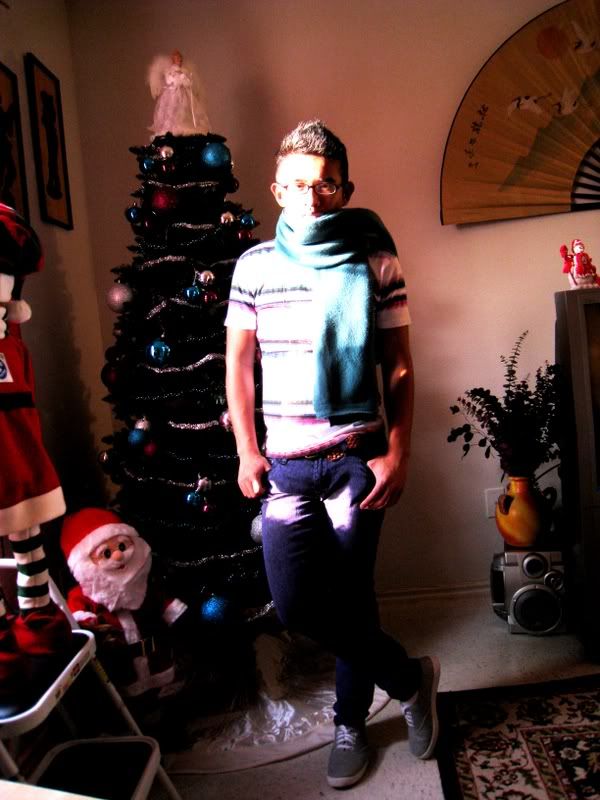 For sushi with my brothers.
Well I had an eventful Thanksgiving. Not really. I spent most of my time preparing the meal with my mom after which I devoured my plentiful portions of moist turkey, mashed potatoes, red rice and corn.
I was watching The View yesterday and one of the ladies mentioned that people on either side of the shopping counter tend to get increasingly bitchy towards Christmas, which is very true in my experiences. Before sushi yesterday, my sibs and I stopped by Radioshack to pick up a memory card for my dad's camera. In short, a sales associated managed to bark information to me over the volume set by shoppers and their personal conversations. I'm not asking for a damn Saks shopping experience but tend to every shopper as you would want to be tended to.
And as if this debochal wasn't enough to inaugurate my day, homegirl at the sushi place
dared
to use the
this is my first day so please be patient with me
excuse on us, which I think is an example of weak character and more importantly, incompetence. To which I responded audibly "Don't tell me how to dine especially when I come into YOUR restaurant." We were honestly cordial in our interactions until she spat such a lame refutation. Whatever.
At any rate, not much is going on in my sphere of life. It is an exceptionally foggy day that definitely sets the mood for the weekend, though I thought I should share. I do plan on compiling a list of my pet-peeves. That should be fun.
=]